The plots of the evil scientist
Edit
by:Louise Wong
Hero The Mighty Cat Vol.1 is a 100 paged comic book written and drawn by Louise Wong
Characters:Hero, Rug, Evil scientist, Doom Dog(Octo Dog), Doom Dog 2, False Hero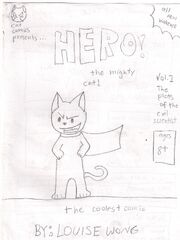 Hero was just an ordinary cat with his owner Rug. They're neighbors with the evil Scientist, who just recently made a super power potion. The Evil scientist slipped while holding the super power potion container. He lost his grip and the potion fell into a milk truck that was about to deliver 2 bottles of milk to Hero's house. Hero found the flask of super power potion and drank it thinking that it was an ordinary bottle of milk..then....KABOOM!! A new Hero arrives......
HERO THE MIGHTY CAT!
(read Vol.1 to know more about the story)
Community content is available under
CC-BY-SA
unless otherwise noted.